Installing a woodstove yourself is a serious task. Consider hiring a professional to do your installation, because without proper caution, lives are at risk from fire. No two woodstove pipe setup is the same so there is no guide to provide you. The instruction collected on this page is for information purposes only. It is not distributed by any manufacturer and is not intended to be used to install woodstove infrastructure. Refer to your product-specific manufacturer instructions and specifications as well as all applicable local, state and national regulations. The construction and installation of chimneys and woodstoves is strictly regulated by building codes and fire safety ordinances.
Who do I need to notify before installing a woodstove?
Check with your local building official for local regulations and whether a permit will be required. As a general rule, installation instructions from the stove manufacturer for clearances and connections (new stoves are approved by Underwriters Laboratory (UL) national standards) take precedence over other building codes. National Fire Protection Association Code 211 (below) should be followed if no UL guidelines exist.
Inspection and approval of woodstove installations in some areas is done by the Fire Marshall.
Finally notify the agent who handles your homeowner's insurance to make sure you comply with your policy terms.
National Regulation Authority
Local building codes derive their regulations from "National Fire Protection Association (NFPA) 211: Standard for Chimney, fireplaces, vents, and solid fuel-burning appliances." Free personal access to updated standards online at www.nfpa.org. As you prepare for a do-it-yourself woodstove installation, it will be a very handy reference.

How to decide to use a chimney as is, repair it or give up and install a new one
A chimney properly designed is prerequisite for safe woodstove installation. This decision is based on the evaluation of suitable heat-resistant material for construction (clay, brick, concrete), expertly leak and other-outside-element proof, the correct diameter and height, and be separated the appropriate distance from combustible materials.
Is my chimney the right size for a woodstove?
Area of Pipe - Regulations prohibit attaching a woodstove to a chimney that has a cross-sectional area smaller than, or more than three times larger than, the stove's outlet.

Height of Chimney - Taller chimneys draw better than shorter ones. 12' from the stovepipe connector to the top - is a practical minimum. The Chimney must be at least 3' above the roof and 2' higher than any part of the building within 10'.


Maximum Chimney Sizes According to Stove Outlet Diameter

Outlet
Round Chimney (inside)

5"
6"
8"

8"
10 "
14 "
Masonry and Factory Built Chimneys
The Chimney must be in good condition with a flue lining. It is a good yearly habit for missing flue tiles and cracked masonry. With a masonry chimney, the stovepipe should be extended through the chimney wall to the inside wall, but no more. You can use high-temperature furnace cement to fasten the pipe to the masonry. If you cannot close off your fireplace or the chimney is otherwise unsuitable / nonexistent, a factory-built chimney listed and tested by UL is a favorable option.
I have holes in my chimney from a previous stove installation. What can I do?
A chimney must be appropriately sealed from outside air and water for the proper flue draft and normal functioning of a woodstove. If you have old holes in your chimney, you need to plus them.
Chimney Maintenance
this section is in the building process. It will be coming soon.
How to Equipt chimney with cleanout (as required by many codes?)
It is often easiest to include access to cleaning the chimney in the stovepipe using a Cleanout T. The stem of the T faces the stove with one side connecting up to the chimney and the other facing down, covered by a cap and used for cleaning the stovepipe installation.

How to prevent creosote buildup?
Make sure you install your woodstove in a manner that will permit access to both the connector pipe and the chimney flue for the periodic cleaning necessary to remove soot and cresote buildup on the interior surfaces. Creosote can be safely removed from glass with a nonabrasive household window cleaner.
A new woodstove will include a list of minimum clearances to combustible materials. Providing this information is a requirement for UL Approval.
What are woodstove clearance requirements for floors? walls? ceilings?
Standard Clearances for fireplace stoves according to NFPA 211 is 36" for front, back, sides, and top of of stove. There are two concerns when protecting a floor which includes heat from the stove and embers falling out onto the floor. The protection should extend under the stove and outward for a distance of 18" on all sides.
Floor Protection Degree based on the height of the stove body above the floor.

Height Above Floor
Requires

nolegs

Floor noncombustable


2-6"
hollow concrete blocks 4" thickon top of 24 gauage or thicker sheat metal.

6"

bricks, rocks or blocks at least 2" thick on top of 24 gauage or thicker sheat metal.
How can clearences be reduced?
The clearnence for the stove itself is 36" from any combustible. Knowing this you're going to want to discover ways to reduce the allowable clearance. For the stove itself, unless specifically designed for lesser clearance, NFPA standards state the clearance after an effective thermal barrier reduction shall not be less than 12" to combustible walls and 18" to combustible ceilings. 12" offers much more flexibility on stove sitting location.

Stovepipe connector clearence is unually about 18" (for single wall stove pipe, that is) and can be reduced (with radiant barriers). Clearance-reduction methods are all variations on one theme: providing a non-combustible barrier (like sheet metal) to radiant heat with a free-flowing air space behind it. Double wall stove pipe can also reduce stove pipe clearance between 6" - 8". See the difference between single and double wall stove pipe by clicking here.
Can I pass my stove pipe through a wall or cealing?
If it is possible, you want to avoid having stove pipe go through a wall or ceiling. It is much better to install the woodstove near the chimney or relocate the chimney altogether. There may be situations when a stovepipe must pass through a combustible wall to reach a chimney. (Neither NFPA regulations or building codes allow stovepipe to pass-through a floor or ceiling; you must use a factory-built or masonry chimney that continues unbroken to the top). The traditional wall-pass though is the Ventilated Insulated Thimble.
Make stove pipe connections as short and straight as possible using the minimum number of elbows. This is how maximum efficiency is achieved.
Why a good stovepipe connection is so important.
A good connection increases woodstove draft efficiency. This increased draft makes your woodstove more efficient. It slows the buildup of creosote while slimming the chances water or soot will buildup within the vent. A good draft makes less "smoking" of the stove happen at startup.
Can I install a longer stovepipe connection to the chimney for more heat?
Longer pipe sections do extract additional heat from the flue, but it results in reduced flue draft and increased creosote buildup. Ensuring good draft, in the shortest connection of stovepipe to the flue, is key achieving lower emissions and the best efficiency of your woodstove. Moreover, higher efficiency lowers flue gas temperatures thus very little is to be gained by unnecessary longer pipe connections.
What size stovepipe and gauge metal should I buy?
Pipe size should match the outlet size of the stove. The lower the gauge number the thicker the metal is. The thicker the metal the longer your stove pipe will last before replacement. You want to aim for a 24-gauge or thicker pipe for stovepipe connections 6" in diameter or bigger.
Stove Pipe Life expectancy? Are there types of metals to avoid?
Stovepipe connectors are expected to wear out typically after 3 - 5 years. Stovepipe connections should be inspected regularly and replaced when needed.
Are there types of metals to avoid?
We recommend avoiding galvanized connectors - this type of pipe is used for air duct ventilation - because zinc is added to reduce corrosion rate.
Which way is up?
Install stovepipe so male end is pointing down and the female end is up. This will prevent liquid creosote from dripping down the sides of your pipe.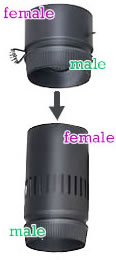 What should the slope be for my Horizontal Runs of stovepipe?
Slope should be 1/4" per 1' toward the stove. This encourages creosote to drain back toward the firebox and facilities necessary draft. A horizontal run should never be more than 3/4 the height of the chimney (in case you have a very long horizontal run under consideration). The pipe should be supported every 6'.
Is it a good connection?
Joints should fit tightly so room air cannot enter the stovepipe draft chimney system. Furnace cement works well to insure tightness. Rivets or screws can be used at pie joints for added strength - use about 3 at each connection.
Furnace Cement

Item

Ounces

Item #

Price

Weight

Buy

Rutland Black
Furnace Cement

16

A27115

$8.99

1.5 lbs

Rutland Black
Furnace Cement

32

A27116

$12.99

4 lbs
Can I connect my woodstove to my chimney beginning on the second floor? Even if there is already a heater on the first floor connected?
Stovepipe can enter a chimney on a floor that is not the bottom-most. This used to be done by sealing the chimney at the base of its flue tile (above the fireplace's smoke chamber) not at the fireplace opening or damper.
Unless your stove heater is listed for such a connection, solid fuel burning appliances cannot be connected to a chimney flue serving another appliance (like a furnace or water heater). Venting two heaters with one chimney can increase the chance of fire and can allow dangerous gasses into your home.
Direct Chimney Connection?
Direct connection specifies that stoves and fireplace inserts must be positively connected to the flue tile itself and that the fireplace damper be removed and sealed with a sheet of steal. There are many kits to accomplish this tricky business. Of course, you can always reline your whole chimney from the fireplace insert to the top of the chimney, as chimney experts say it's the safest way to go.
Using a Manual Damper
Some wood burning stoves have an automatic draft regulator controlled by the thermostat. A manually operated damper can be installed on the pipe near the stove and it should not obstruct more than 80% of the pipe area.
Have a smoke dector positioned at recommended locations.

Ready an ABC-rated fire extinguisher located nearby with everyone in the household trained how to use it.

Install a Stovepipe Thermometer to help operate the stove optimally and to warm of a chimney fire.

Once you have an operating stove, check your stove weekly for creosote until you learn how quickly the accumliation happens. Once it reaches 1/4" clean it out or have a chimney sweep do it for you.
Frequently Asked Questions About Stove Pipe
A Few Words To The Wise
1. Stick with one brand of stovepipe for connecting woodstoves to chimney. This ensures the most secure stovepipe connection. Learn why a good stovepipe connection is so important.
2. For most stovepipes 3 screws are required to fit each pipe connection tightly
3. New stovepipe and woodstove instalations may smoke a little and emit an odor when first used. This is normal curing of the paint on the pipe. Allow ventalation of an open a window or door to allow the smoke and fumes to escape durning the beginning of your first wood burning stove fire.