Stove Pipe Dampers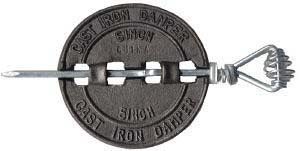 Controls the amount of heat allowed to pass through the chimney.

Sizes designed to match the diameter of your stovepipe.
Heavy cast iron
Heat resistant steel coil handle.
Durable steel rod with strong diamond point.
Turning the damper a 1/2 turn opens and closes stovepipe exhaust opening.
5" Stove Pipe Damper
---
6" Stove Pipe Damper
---
7" Stove Pipe Damper
---
8" Stove Pipe Damper